Vishal lodges complaint, says life threatening and seeks police protection

http://www.kollyinsider.com/2015/10/vishal-lodges-complaint-says-life.html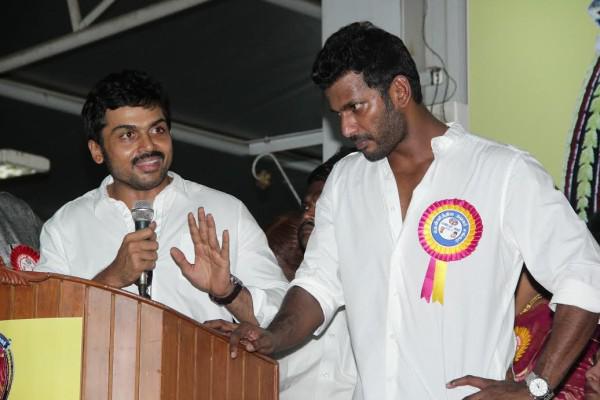 Actor Vishal has been vigorously involved in the campaigning of Nadigar Sangam elections and is contending with Sarath Kumar team. With all such happenings moving on full swing, Vishal has now lodged a complaint towards police for some anonymous life threatening phone calls.
Nadigar Sangam elections has been consistently creating the best headlines and quenching the thirst of many media channels, which had been looking out for such sensational stories. Last week, Sarath Kumar had alleged Vishal with a legal suit for 10 Crores defamation for spoiling his image during the election campaigning.
Vishal who had reverted saying that he is ready to face the issue legally has now come up with a new allegation. It seems that the actor was threatened by some anonymous callers on taking away his life. The actor residing at T Block in Anna Nagar has now lodged the complaint asking for special protection at his residence and office. Moreover, he has submitted the phone numbers that had threatened him with calls and the police are already processing the procedures to trap the culprit.
In accordance to his complaint, the police officials have accepted to offer him security. The Nadigar Sangam election will be held on October 18 and Vishal continues to have the campaigning proceed as before along with his team members of Pandavar Ani.