After loads of expectations, the opulent I is finally here and is all set to set the screens ablaze with awe inspiring technical work from a...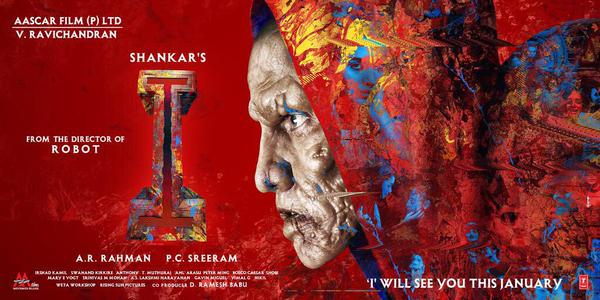 After loads of expectations, the opulent I is finally here and is all set to set the screens ablaze with awe inspiring technical work from a crew who can move mountains.
Breaking free from his comfort zone of movies typecast with social messages, Shankar steps into a romantic action genre that integrates an interesting plot and an actor par excellence.
Vikram is Lingesan an ardent body builder whose daily routine and lifetime ambition is capturing the title Mr. India. He also worships the suave and beautiful model Diya essayed by Amy. Shankar takes the journey of I by taking enough time to establish the characters, even though the movie chugs along predictably.
The movie shifts between two timelines, one of that the hunchback on a vengeance spree and the other with Amy Vikram Jodi completely shrunk in love. All is well when things start going haywire with the sudden turn of events. Shankar trots between the timelines rather predictably more than once, but still manages to keep impressing. Aila aila is an array of colors and ecstasy,, Shankar's signature all over.
Rate the movie
Critics Review
I is indeed a perfectly made magnum opus tale of love, jealousy, revenge and passion.

A terrific performance let down by an uninspired, exhausting movie.

Amalgamation of Masters at play, Watch it for Vikram !

There's a lesson in I for makers of masala movies

Watch 'I' for Vikram, Magnum opus lived up to the hype it created

Simply Awesome! Love, Revenge: Vintage wine in new bottle.

Romantic-thriller told simplistically

Vikram's I is definitely a Pongal treat

I turns Trend setter as promised, brilliant movie

I is not the best of Shankar, but still it is a one-time watch.
Below, we bring you the tweet Reviews of the movie goers.
Thanes Posted
@BcinemaFrance @vetrivelan172 of course #I in terms of comedy and love plus national award acting by Chiyaan
#I sincere movie from Shankar outstanding love and acting kudos to santhanam Hw ready as #I gng to break all records national award 4 vikram
#I semma padam in Malaysia all clapping hand enodu nee irunthal semma @mithunraman @AndhraBoxOffice @kamaljii @rameshlaus
#I theri mass superb comedy and fight blockbuster of the year @itisprashanth @sri50 @Lmkmoviemaniac @sureshmylapore @RDBalaji
Christopher K Tweeted
#Imovie Gud 1st half!!Koonan character vikram rocks! Aweome cinematography, 3 songs in 1st hlf and 2 fyt, china location superb! Wtg for 2nd
Prashanth Wrote
Dedication = vikram , enna mansan daa saami !! #I
PC sir, u r GOD ! #I
#I interval - Shankar magic happening big time, not bored even a bit.
Abishek Posted
Bang on ! #I begins right away ! Vikram is jaw dropping ! PC is the legend ! .@iamAmyJackson = Beauty Santhanam scores in a wink
If somebody can be a hero in an underwear ? Then it's Vikram people ! #I fever .@iamAmyJackson .@shankarshanmugh
Can a bikini not look vulgar ? Then you need god given body like .@iamAmyJackson #I
@iamAmyJackson's lip sync is better than Tamil speaking heroines ! #Imovie
Power packed first half with time spent on establishing the premise ! .@shankarshanmugh does it in style Vikram is a killer .@iamAmyJackson
Aila is a landmark in song visualizations and conceptualizations #Imovie #ireview
Vikram redefines acting and dedication ! #Imovie #ireview
#I is ruthless and brutal ! #ireview
When god decided to be creative, funny, imaginative and informative ? He was born as .@shankarshanmugh #ireview
EX5 Prime Posted
Watched #I..I donno guys bt I feel Msia cut the movie 2 much.
Story as expected but Chiyaan was out of the world!
@rameshlaus : all revenge n fight scenes r cut. We were totally blurred until audience shouting in disapoinment!
Chiyaan proved nobody can match him when comes to performance. He can be fire or water or watever! #I
The best thing I liked in #I is @iamsanthanam 's comedy.
He made the entire crowd run ROFL!
Oh yeah, Shankar used all Amy's ability to maximum. Exterior & Interior #I mean.
She was so hot in pink bikini body!
Since many scenes cut, we cannot feel the mersal effect enough tough in Msia!
#I
All in & out, @shankarshanmugh the king of #I made yet another exceptional but MASSIVE EPIC movie for Indians!
Not to forget, this #I is definetly not for children. Too much glamour & double meaning scenes.
We enjoyed it tough :-)
JHayeish Posted
MERSAL START ........never expected such a BGM from @arrahman ...#I ..you will find the story from the logo of the movie ....
here comes CHIYAAN VIKRAM ......age is just a thing to him ...very colorful
I am really sad that such a class film should be trimmed around 2 hrs 30 minutes .....interval on its way ..till now its a feast #I
Salman Tweeted
Just got out of #I Premiere in France. In a few words: Perfect, innovative screenplay in 1st half, and a good msg conveyed abt Love n Beauty
@inaymusic On the whole, my rating for #I: 4.5/5. GO FOR IT! Time flies! The movie is THRICE watchable! You'll broke in tears at the end!
@inaymusic Lastly, the man #Vikram stole the show with his ACTING and dedication. The movie is nothing without him. #I
@inaymusic PC's cinematography magical, ARR's BGM's electrifying and moving from start to finish. #I
@inaymusic So much themes conveyed, perfect blend for commercial cinema. Still class and international feel. Hats off @shankarshanmugh
Venkat Tweeted
Watching #I this is world class stuff...will blow ur brains out,terrific bgm...arr best in past decade..hats off!!!1
#I goosebumps allover... Scintillating stuff from shankar...out of the world thinking!!!!
#I no spoilers...just posting my views...no offense
Karthik Raja Wrote
'I' One word AMAZING! Director Shankar nvr fails to mesmerize wt his colourful picturization & cinematography graphics.
Movie was worth the watch.