Vikram Prabhu honoured, Big B excited to shoot with Prabhu, Nagarjuna, Shiva Rajkumar, Manju Warrier
It was a dream come true for actors Manju Warrior and Vikram Prabhu when they shot with megastar Amitabh Bachchan for ...
It was a dream come true for actors Manju Warrior and Vikram Prabhu when they shot with megastar Amitabh Bachchan for a commercial. Both of them felt honoured by the opportunity.
Manju and Vikram shot with Big B, Prabhu, Shivaraj Kumar and Nagarjuna for Kalyan Jewellers commercial.
An excited Manju posted on her Facebook page: "Sharing this wonderful post by Bachchan sir. With the legends of India and I feel humbled to share the frame with them".
Vikram Prabhu described the experience as an "honour beyond words".
"Was a dream come true to work with you uncle @SrBachchan (sic)," Vikram Prabhu posted on his Twitter page.
The shoot also featured southern actors Akkineni Nagarjuna, Shivraj Kumar and Vikram Prabhu's father Prabhu Ganeshan.
"Blessed to work with such greats @iamnagarjuna uncle & Shiva uncle! And first time with dad onscreen Of course (sic)," Vikram added.
Big B is equally excited and shared couple of pics in his verified Facebook page.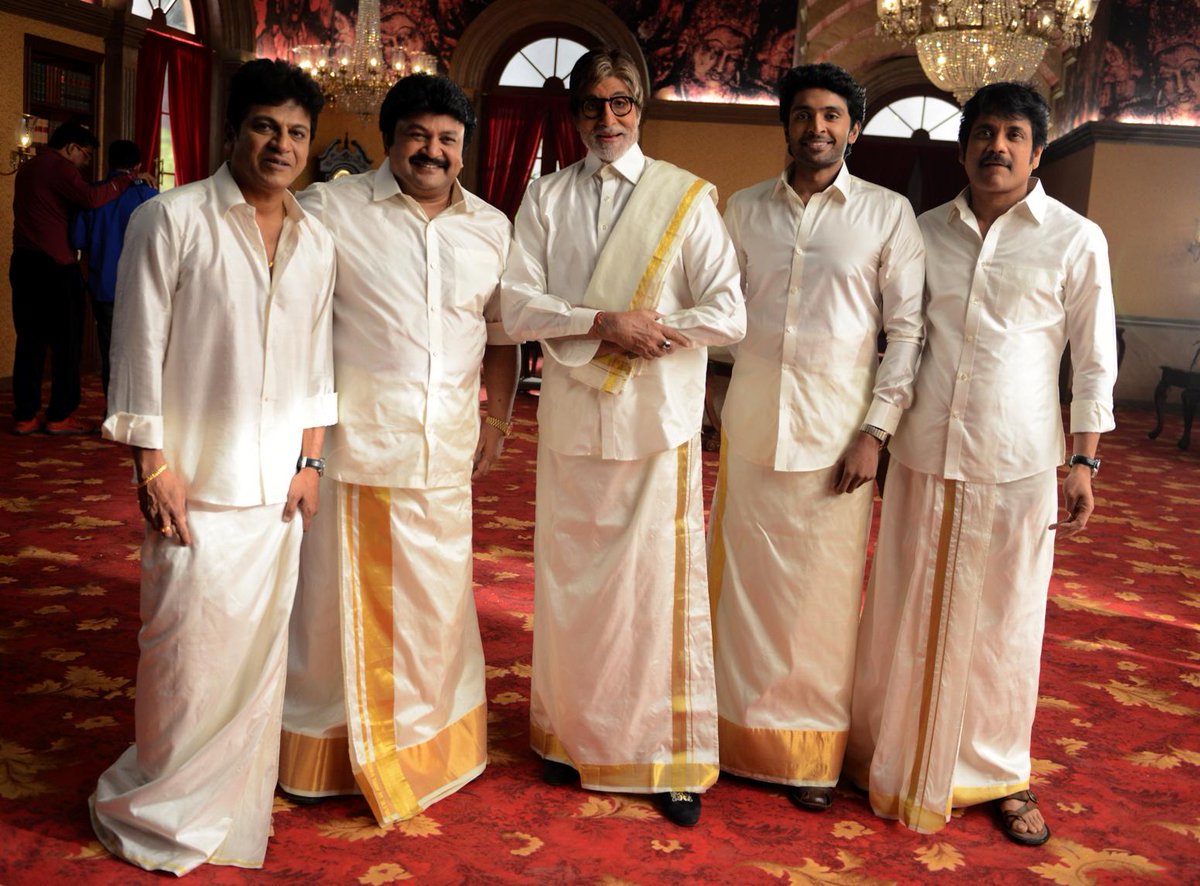 Bachchan expressed his happiness to be with the top heroes of the south entertainment industry.
T 1787 - A delightful morning with the greats of the Southern Industry .. and all sons of thespians, who were my seniors in my early years !
"What a privilege for me to be in the same frame .. a legacy of the past in my present today .. honoured and humbled by the respect they all give me," Bachchan posted on his blog on Wednesday.
The Bollywood actor also praised the south Indian entertainment industry, which has "utmost professionalism and discipline". He also said that creativity and management skills of the industry is always ahead of Bollywood.
The "Shamitabh" star also added that he is blessed to be a part of the dynamic industry.
"I consider myself fortunate and blessed to have lived in those heady times of the greats of language cinema - of Shivaji Ganesan, MGR, Nagesh, Gemini Ganesan, Savithri - of Akkineni Nagarjun, NTR - of Uttam Kumar, Soumitra Chatterji, Robi Ghosh, Madhabi, Chabi Biswas - of Rajkumar - of Dilip Kumar, Raj Kapoor, Dev Anand, Motilal, V Shantaram, Meena Kumari, Waheeda Rehman, Nargis, Nutan, Tanuja ... the names are simply endless .. all of them could never be contained in such a short medium of record ..," Bachchan posted on his blog.