'Yennai Arindhaal' - First Look | Takes Social Network a storm +celebrity tweets
The first look of Ajith's next film is out. Titled Yennai Arindhaal, this film marks the coming together of the actor with director Gaut...

https://www.kollyinsider.com/2014/10/yennai-arindhaal-first-look-takes.html
The first look of Ajith's next film is out. Titled Yennai Arindhaal, this film marks the coming together of the actor with director Gautham Menon for the first time. The first look has the actor riding a bike – a look that is sure to make all his fans go into a tizzy.
The title of one of the most anticipated movies of the year Thala Ajith's Gautham Vasudeva Menon directed untitled film was announced early today morning.
The film which had the working title Thala55 will be known from today as Yennai Arindhaal which means "If you know me…" . The title has started trending on social networking sites and is being liked by Ajith fans.
The title was announced mid-night last night. It went viral and the buzz was unstoppable. The First look poster of Yennai Arindhaal will be released sometime later today. Meanwhile, the shoot of Yennai Arindhaal enters last phase and is expected to complete sometime in November.
Ajith is said to be playing a character called Satyadev in this movie. While the filmmaker and Thala, as he's referred to by fans, were supposed to team up on earlier occasions, this is the first time that a project has happened.
Anushka and Trisha play the female leads in this film that has music by Harris Jayaraj. Actor Arun Vijay is playing an important character in the film too.
Yennai Arindhaal Trend on Social Network
GVM is known to keep lyrical Tamil titles for his movies such as Pachaikili Muthucharam, Vinnai Thaandi Varuvaya, Neethaane En Ponvasantham etc. Keeping with the tradition and keeping the leading man Ajith's character in the movie, he has gone for the title – Yennai Arindhaal.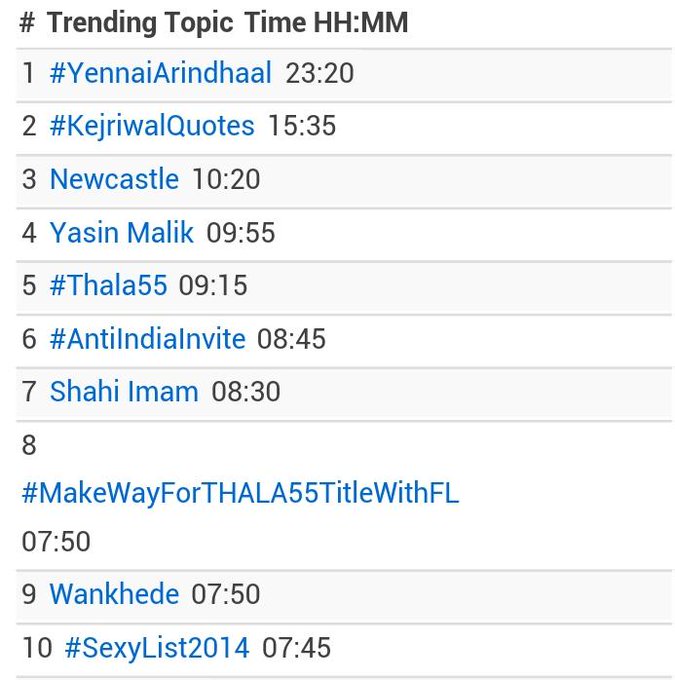 The fans of Ajith Kumar seems to have taken a great pleasure in ensuring that the title of the film trends on social media sites. Especially on Twitter, "Yennai Arindhaal" tag is in the first position for a few hours now. There seems to festive atmosphere in the air among the Thala fans as they are celbrating the occasion with a great joy.
Celebrity Tweets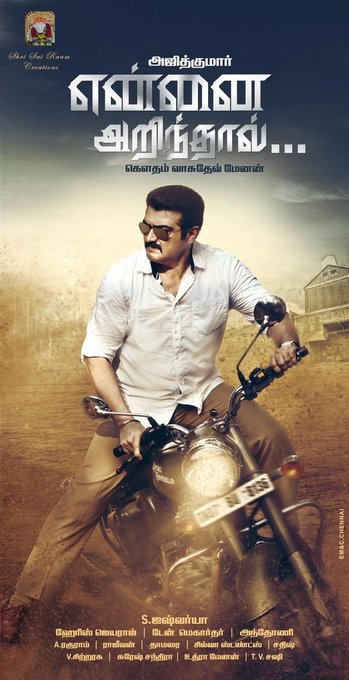 On the other end, the title "Yennai Arindhaal" has not impressed Ajith fans but also celebrities, who have praised the movie name.
Here,we bring you some of the selected few comments to you.

Producer Dhananjayan Govind Wrote
Happy to read the title of #Thala55 as #YennaiArindhaal ... something different & powerful. All the best to @menongautham sir & team:-)
Film critic Sreedhar Pillai Tweeted
#YennaiArindhaal - Powerful, meaningful & catchy title with terrific recall value from @menongautham.
Actor Udhayaa Posted

Yennai arinthaal....awesome title for our thala ajith sir movie. Goodluck to gowtham sir and whole team..ajith sir always rocks...
Dhanush Tweeted
Ennai arindhal ... Apt title for ajith sir :) powerful mass and class !! Gautham menon never ceases to amaze me with his titles. Best wishes"
Actor Ganesh Venkataraman Tweeted
I think Ajith sir is one of those rare actors who transcends being jst an Actor, he is a role model !! & title #YENNAIArindhaal reflects it
Musician Anirudh Ravichander Posted
'Yennai Arindhaal' - Very nice title for thala 55 .. Congrats and hoping for the best from @menongautham ..
Actor Ashwin Kakumanu Wrote
The correct title for a story covering a man's life..also reflective of the talent involved...#thala #GVM
Actress Asin Tweeted

Soulful and meaningful title. All the very best to @menongautham, Thala Ajith , Anushka, & the whole team. @trishtrashers #YennaiArindhaal
Producer Dhayaanidhi Alagiri Tweeted
#YennaiArindhaal - CLASS meets with MASS
Actor Mohan Raman Posted
FOR ALL AJITH FANS "Uyarnthaalum thavaraamal Thalai vanangiye nee vaazhalaam".... Another take on #EnnaiArindhaal
Writer Vignesh Shivan Posted
If you know me !? #YennaiArindhaal #GVMThalaMagic genius minds at work together! #Sextraordinary title #Thala55 trending worldwide