Movie: Poojai Cast: Vishal, Shruti Haasan, Sathyaraj Producer:- Vishal Direction:- HariHari Music:- Yuvan Shankar Raja Year :- 2014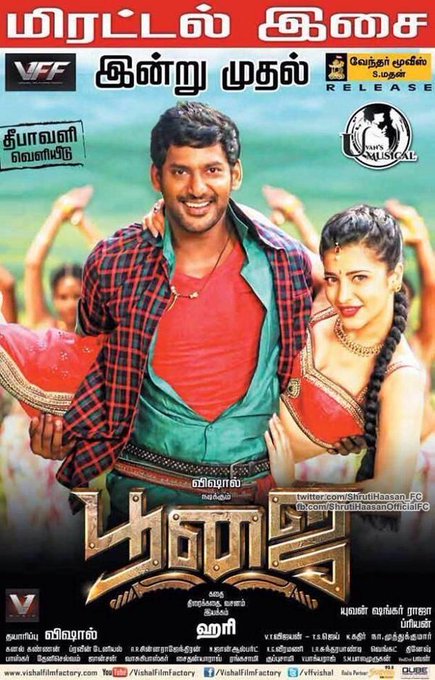 Movie: Poojai
Cast: Vishal, Shruti Haasan, Sathyaraj
Producer:- Vishal
Direction:- HariHari
Music:- Yuvan Shankar Raja
Year :- 2014
Listen
Critics Review
Odi Odi
Singers : Palakkad Sriram
"An aggressive solo with powerful percussions, string section and paced up interludes. The track has a philosophical feel transforming to an optimistic atmosphere in terms of the progression." – Behindwoods
The album heads to another clichéd track and Palakkad Sriram gives everything to stir the goosebump'ish quotient, and he might succeed with the help of visuals. – Indiaglitz
"This song has philosophical feel lyrics. The track is used to build up Vishal's image in the movie. Lyrics are inspirational and good to hear."
Ippadiye
Singers : Rahul Nambiar, Mili Nair
"It is time for a fusion number with the blend of folk and electronica in right proportions. The composition has an instantly likeability factor with simple orchestration and wonderful chord progression as well." – Behindwoods
"A neither impressive nor so bland one. Rahul Nambiyar and Mili tried their best to ignite some life to this pedestrian celebratory mood tune, but none of them actually works at the end. " – Indiaglitz
"The song is composed with simple orchestration and wonderful chord progression as well. The lyrics contains high flavor of classicism."
Veraarum
Singers : Karthik, Pooja
"A feel-good duet with breezy vocals by sweet sounding Karthik. The orchestration creates a feel good ambience with indigenous percussions, fluid bass work and lovely interludes." – Behindwoods
"Yuvan has saved the best for the last in this OST and he roped in the best in the industry to render it. Na. Muthukumar has penned the simplest of lyrics to a tune which is soaked in classical base." – India Glitz
"This duet song contains breezy vocals and the vocals of Karthik attract the music lovers. This song is one of the chartbuster songs in this film. The vibrant beats and background score gives a youthful experience when in love and makes you fly on cloud nine."
Uyire
Singers : Yuvan Shankar Raja
"A melancholic number is delivered by the composer Yuvan's earthly voice and he single handedly takes the track forward. Though the rhythm is laid back, it creates the much needed impact on the listener. The interludes are mildly woven over string section and neat bass work." –Behindwoods
"A short pathos driven by magnetic vocals from the composer himself. Finally, we get to hear the string sections in the interludes and the sound arrangements pulls off the desolate mood. " – India glitz
"This song was sung by Yuvan Shankar Raja and usage of bagpipe, synthesizers by Yuvan is terrific. It is definitely chartbuster of the album and you will connect to it constantly."
Soda Bottle
Singers : Yazin, Anthony Dasan, Sathyan
"The typical groovy Yuvan's style is unleashed with this track supported well by raw vocals of Anthony Dassan and smooth voice of Yazin. The rhythm is laid back, and timely usage of electronic guitar riffs does the needed job." – Behindwoods
"After hitting the bulwark in the past 2 songs, Yuvan strikes big with a massy number. Anthony Dassan and Yazin complements each other really well to deliver a groovy intro number for Vishal. " – India glitz
"This song is sung by Anthony and Sathyam and Yazin. It is an average track with usual techno sounds and goes well with the film. But more effort could have enabled it in composing far better."
Devathai
Singers : Nivas
"A power packed number with punchy rhythm, stylish vocals and masterful interludes. The typical Yuvan's flavor is evident throughout the composition with trendiness intermixed with melody." – Behindwoods
"You don't have to see the label to know this one is from Yuvan. A wonderful foot tapping melody which starts and end with beautiful whistle and guitar notes. Nivas continues his gorgeous form, and quite cleverly renders this track, albeit the base tune finds some resemblance to Yuvan's work in 'Samar' (Azhago Azhagu)." – India glitz
"This song contains a power packed number with punchy rhythm, stylish vocals. Nivas's energetic voice makes us to dance. Template beats of drums and pop based breeziness works for a while. The vocals are strong with full energy and will be a treat to Vishal's fans."
Verdict:
A commercial cocktail which could have been better. - India Glitz
Yuvan delivers what is needed for a commercial entertainer ! - Behindwoods
Pick(s) of the album – Devathayai, Soda Bottle, Verarum