Two crude bombs, packed in tiffin boxes were hurled into the office of the Tamil news channel Pudhiya Thalaimurai at Ekkaduthangal early i...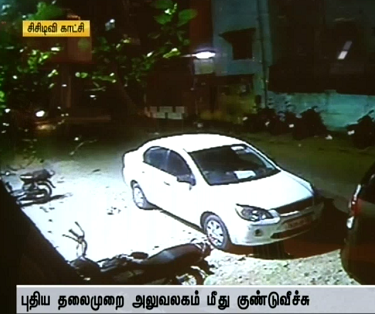 Two crude bombs, packed in tiffin boxes were hurled into the office of the Tamil news channel Pudhiya Thalaimurai at Ekkaduthangal early in the morning today.
Two country bombs packed in tiffin boxes were hurled at the office of the Tamil television news channel Puthiya Thalaimurai in Chennai at about 3 am this morning. No damage has been reported. CCTV footage shows four men on two motorcycles throwing the crude bombs at the entrance to the office. Police are investigating the attack.
The attack on the new channel's office comes at a time when it has been under attack from some pro-Hindu outfits for its proposal to telecast a debate on the relevance of the 'thali' (mangal sutra). The protests had begun after the channel showed clips of the debate to promote the show. Puthiya Thalaimurai had put the broadcast of the show on hold.
Earlier, one of its camerapersons had been roughed up members of a Hindu fringe group.
The channel is promoted by the same group that owns SRM University. SRM Group founder TR Parivendar Pachamuthu had launched a party, the Indhiya Jananayaga Katchi (IJK, or Indian Democratic Party), which had been part of the BJP-led National Democratic Alliance (NDA) in the 2014 Lok Sabha elections.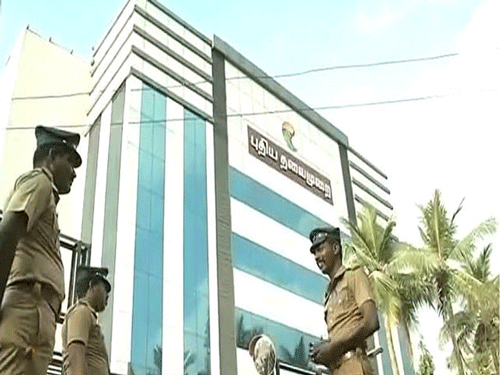 However, New Generation Media Corporation, which runs the channel says it is an apolitical, professional media house, headed by P Sathyanarayanan, the younger son of Mr Parivendar.
The CEO RBU Shyam Kumar said, "This is disturbing. This could also disturb communal harmony. We condemn this."
Update: Suspects got arrested
The attack was believed to be perpetuated by Hindu Illaignar Sena
Chennai Police on Thursday arrested six persons, who are believed to have hurled crude bombs at the office of Tamil television channel Puthiya Thalaimurai.
All the suspects belonged to Hindu Illaignar Sena, a little-known outfit functioning from Koyambedu, in Chennai.
Chennai City Commissioner S. George said six persons involved in the attack were arrested. The accused – Venugopal (29), Saravanan (24), Siva (22), Murali (32), Raja (22) and Mahadevan (27) – were all employees of a travel agency owned by Jayam Pandi.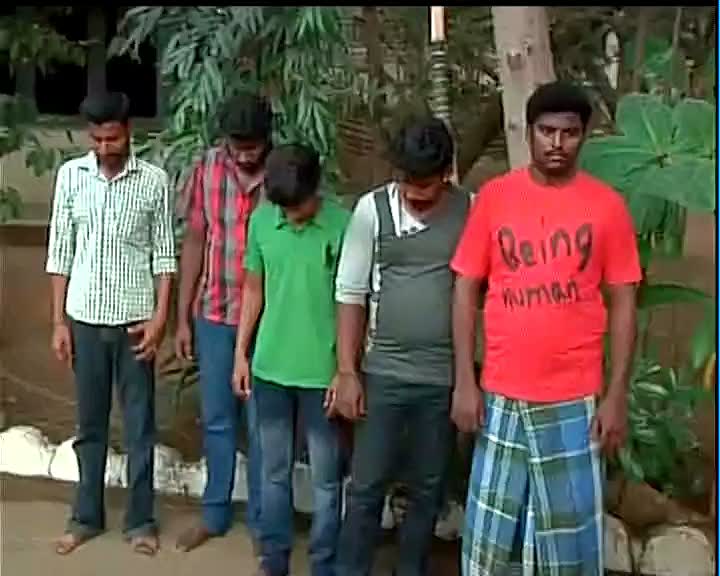 The arrested suspects. (Pic: ANI)
Meanwhile, Jayam Pandi (45), state president of Hindu Illaignar Sena has surrendered before the Judicial Magistrate court in Madurai.
CCTV cameras installed on the office premises captured the images of the attack and preliminary examination by police of the footage revealed dark pictures of the suspects who were also spotted loitering in the area 30 minutes before the attack.
Police have also seized two motocycles, which were used by the suspects to hurl bombs at the office, early Thursday morning.
Police sources said more crude bombs were also seized from the outfit's premises.