The launch of the music album and the second trailer of Kamal Haasan's Tamil – Telugu bilingual neo-noir crime thriller Thoongavanam was a...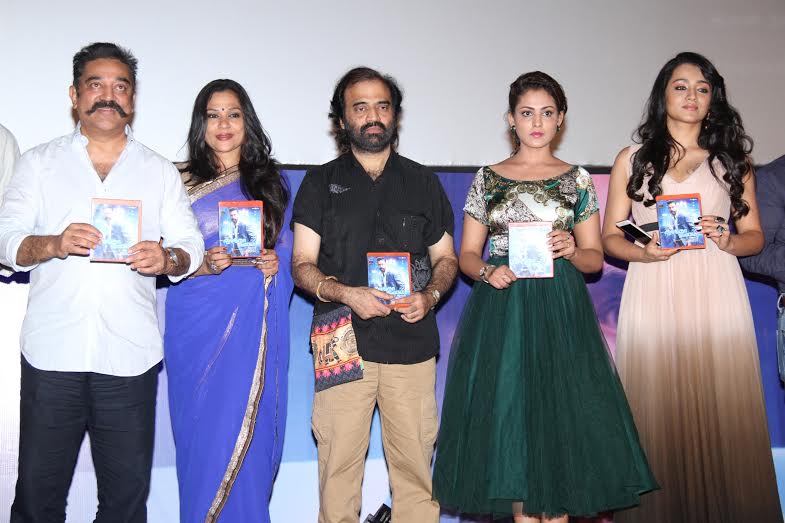 The launch of the music album and the second trailer of Kamal Haasan's Tamil – Telugu bilingual neo-noir crime thriller Thoongavanam was a star-studded affair with cast and crew members like Trisha Krishnan, Madhu Shalini, Sampath Raj, Kishore, Yugi Sethu, Ghibran, Vairamuthu and cinematographer Sanu Varughese gracing the occasion.
The Unique audio launch of Kamal Haasan's Thoongaa Vanam happened today (October 7) at Sathyam Cinemas, Chennai.
Known for introducing advanced techniques in Tamil cinema, the audio launch was live streamed on You Tube and also in twenty five theaters in Tamil Nadu.
The event was a star-studded one as many celebrities including Dhanush, Trisha, Shruti, Vishal, Ameer, Pandiraj, Gautham Menon and the entire Thoongaa Vanam team expect Prakash Raj made their presence.
"In recent times, I've been given many awards but my dream is to receive an award from Kamal sir", said Dhanush at the event. Vishal and Trisha have made a point that apart from his greatness in acting, Kamal Haasan is a wonderful human being and hence, whenever a personal problem arises, they would immediately seek the advice of Ulaganayagan.
The film's music composer, Ghibran said "While composing for Thoongaa Vanam, Kamal sir told me that he wanted glitch kind of music and I was skeptical whether our audience would like such heavy sounds but Kamal sir told me 'If not us, who will introduce it to them?'". Later, Kamal has said that he came to know about glitch music from his daughter Shruti Haasan.
Speaking at the function, Vairamuthu said "Kamal is a true artist, he should not fail. He should keep winning every given time". After introducing the entire crew of Thoongaa Vanam, Kamal has proudly said that he and his team have completed Thoongaa Vanam/Cheekati Raajyam in just sixty days.
"Every shot in the film was canned two times. It's an authentic bilingual and I'm proud to say that we have completed both the versions in just sixty days", said Kamal Haasan.
"I'm proud because there were times where I used to make a film for 200 days", added Kamal Haasan. Mr Haasan mentioned Thoongavanam/Cheekati Rajyam as proof of the effect, diligent pre-production and painstaking groundwork would have on the duration of a film's shoot without compromising on the quality of the final product. Emphasizing the importance of pre-shoot acting workshops and rehearsals that would save up quite a lot of time in the sets, he urged his fellow actors to make it a customary thing in the industry.
Also, Kamal has officially announced that both Escape Artists Madan and Cosmo Siva will be releasing Thoongaa Vanam in Tamil Nadu.
Earlier, a brand new trailer and making video song were screened at the event.